Welding Inspection
Welding is the most widely used application for the joining of materials used the manufacturing of ferrous and non-ferrous weldments in castings, forgings, valves, machined parts, pressure vessels, and steels structures.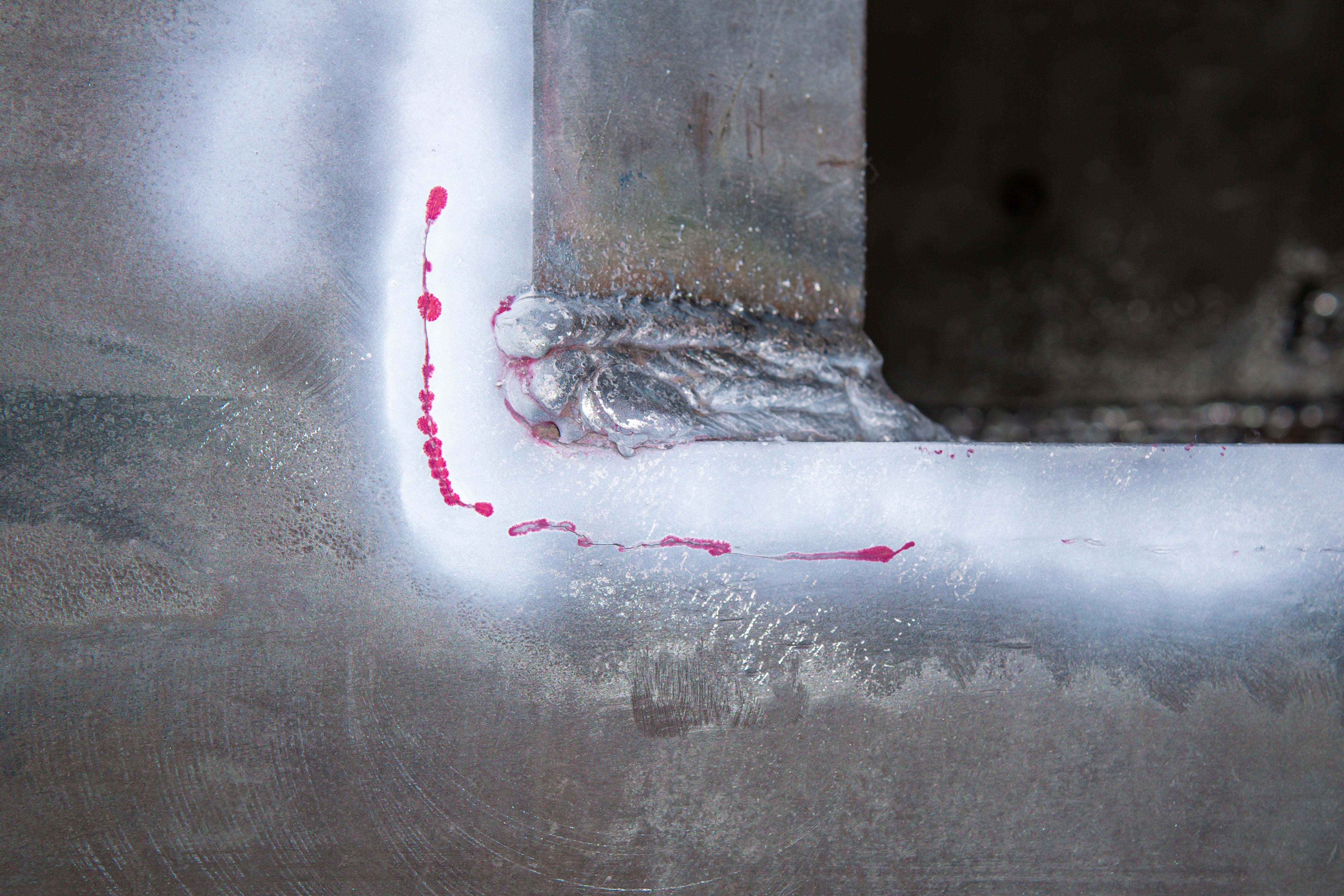 WELDING NDT OVERVIEW
Liquid penetrant is quick, reliable, versatile, and inexpensive. It requires minimal equipment and is sensitive to small cracks.  These qualities make it the most widely used means of weld inspection for the detection of discontinuities that are open to the surface.
WELD INSPECTION
Met-L-Chek penetrant materials are low in fluoride, chloride, and sulfur, and approved for the safe use on metals in accordance with weld inspection standards ASME B&PVC (Boiler and Pressure Vessel Code), ASTM E-1417 and E-1418, NAVSEA, and MIL-STD-2132.
Welding Inspection Products
Our liquid penetrant and magnetic particle materials are certified to meet the requirements of AMS, ASTM, ASME, ISO and OEM specifications.
| | | | | | | |
| --- | --- | --- | --- | --- | --- | --- |
| VP-30 | Visible: Type 2 | Penetrant Testing – Visible Water Washable Penetrant | Visible: A & C | - | - | - |
| VP-31A | Visible: Type 2 | Penetrant Testing – Visible Post Emulsifiable Penetrant | Visible: B & C | - | - | - |
| VBP-300 | Visible: Type 2 | Penetrant Testing – Visible Water Washable Penetrant | Visible: A & C | - | - | - |
Developers
Product
Type
Test Method
Method
Form
Class
Sensitivity
D-70

Fluorescent: Type 1
Visible: Type 2

Penetrant Testing – Developer

Fluorescent: A, B, C & D
Visible: A, B, & C

Fluorescent: d
Visible: e

-
-
Cleaners & Removers
Product
Type
Test Method
Method
Form
Class
Sensitivity
E-59A

Fluorescent: Type 1
Visible: Type 2

Penetrant Testing – Cleaner & Remover

Fluorescent: C

-
2 - Non-Halogenated
-
R-503

Fluorescent: Type 1
Visible: Type 2

Penetrant Testing – Cleaner & Remover

Fluorescent: C

-
2 - Non-Halogenated
-
R-504

Fluorescent: Type 1
Visible: Type 2

Penetrant Testing – Cleaner & Remover

Fluorescent: C

-
2 - Non-Halogenated
-
Dry Method
Oil Method
| | | | | | | |
| --- | --- | --- | --- | --- | --- | --- |
| MPI-80 | Visible: Type 2 | Magnetic Particle Inspection | - | Visible: Form F | - | - |
| MPI-1400 | Fluorescent | Magnetic Particle Inspection – Wet Method Powder | Oil | - | - | - |
| MPI-1400B | Fluorescent | Magnetic Particle Inspection – Wet Method Prepared Bath | Oil | - | - | - |
| MPI-Fluid C2 | Fluorescent | Magnetic Particle Inspection – Wet Method Carrier Fluid | Oil | - | - | - |
| WCP-81 | Visible: Type 2 | Aerosol | - | Visible: Form F | - | - |